Mini Cheesecakes – Raspberry
Cheesecake is always a popular dessert, especially these raspberry mini cheesecakes. Rich creamy cheesecake batter baked over buttery graham cracker crust, then topped with delicious homemade raspberry filling.
---
The next time you wanna impress someone, try mini cheesecakes. They are so easy to make and they look so darn pretty. I love making berries and fruit-based cheesecakes in mini sizes.
Why make mini cheesecakes?
These are perfect crowd-pleasers and a lot less hassle when entertaining. At a party, you already have so much to take care of. So, slicing and serving a large cheesecake is one less work to do with these mini cheesecakes.
You can even use one cheesecake recipe with many different fruit fillings to give your guests more variety, as I have done with my blueberry mini cheesecakes, blackberry mini cheesecakes.
These baked blueberry cheesecakes have three components:

The crust – The rich batter is poured over a Graham cracker crust. Today, I have used cookie crumbs but you can also use my homemade cheesecake crust.
The cheesecake batter – Rich, creamy and decadent made with full-fat cream cheese, sour cream, sugar, cornstarch, and eggs. It is my no-fail vanilla cheesecake batter that can be used in so many variations.
The blackberry topping – This takes just five minutes to make and you can use fresh or frozen blackberries.
The timeline and process
Prepare crust – 5 to 7 mins
Make cheesecake batter – 10 mins
Bake – 25 to 30 mins
Fruit filling/topping – 5 mins
Chill cheesecakes – 3 hours
Ingredients and substitutes
Raspberries – I prefer using frozen fruits (raspberries) when making fillings. Frozen fruits tend to break down easily making the fruit soft and almost melt in the mouth. Fresh fruit usually tends to hold its shape better and takes a little longer to soften. Having said that, there ain't nothing like fresh fruits. So you can definitely use fresh when you have them in season.
Crackers/Biscuits – Graham crackers are very commonly used. But to me, it's about what you like to eat. You want them to be the digestive type with no sugar or little sugar. Alternatively, you can make the cheesecake crust from scratch.
Cream cheese – I highly recommend using a good full-fat cream cheese for texture and flavor. I love to use a combination of cream cheeses. So today, I am using mascarpone which is 40% fat, and two local brands one is 32% and the other 29%. 
Egg – We have just one in this recipe, so make it a large one. I have not tried substituting eggs in this recipe. If you do, let us know the outcome in the comments below.
Cornstarch/Cornflour – Helps hold the batter together so you get nice pretty slices and texture. You can omit the cornstarch but the cheesecake will be more delicate.
Lemon juice – Really brings out the flavor of all the rest of the ingredients and cuts down the sweetness.
Mini raspberry cheesecakes
---
Preheat the oven at 300°F / 150°C/ Gas Mark 2.
Lightly spray a silicone mold pan or removable bottom muffin pan. Alternatively, use cupcake liners in a regular muffin pan.
Pro tip – You can use regular cupcake pans to make mini cheesecakes in liners or remove the liners once chilled.
Crust
Crush the Graham cracker in a food processor. Add sugar and the melted butter and stir to combine.
Pro tip – You can also place them in a ziplock bag and use a rolling pin to crush them.
Divide the mixture between 10 to 12 molds or muffin cups. Use a pastry tamper or the back of a 1/4 measure cup to help press the crumbs firmly to the base. Let chill in the fridge while you make the filling.
Pro tip – Make sure to press down firmly on the crumbs or the bottom will be a crumbly mess when you unmold later.
Raspberry filling
In a saucepan, over medium heat, add the raspberries, sugar, lemon juice, and half the water. Cook on low to medium heat until all the sugar has dissolved. Use a vegetable masher to mash some of the fruit.
Pro tip – Mashing will add a nice thicker consistency to the topping but make sure to leave some raspberries whole.
Combine the remaining water with cornstarch. Add it to the raspberries. Continue to cook on low heat until the filling is thick and glossy. Remove and let cool for a while.
Pro tip – Cornstarch can settle to the bottom of the water so you must stir it just before adding it to the saucepan.
Strain about 1/2 cup of the raspberry filling thru a mesh/sieve to get about ¼ cup of blackberry sauce for the cheesecake batter – set aside. Save the rest to use on the top of the chilled cheesecake in the end.
Cheesecake filling
In the bowl of a stand mixer, with the whisk paddle attachment, combine cream cheese and sour cream. Then, add the sugar. Followed by the cornflour and vanilla extract.
Pro tip – The cream cheese must be at room temperature. Otherwise, the batter will be lumpy. And if necessary, place a warm bowl on top of the cream cheese to help thaw faster.
Add the egg, making sure to incorporate it well.
Pro tip – We want the egg to incorporate well but we do not want to incorporate too much air into the batter. Otherwise, the top will crack when baking. So, do not overmix.
Save 1/2 cup of cheesecake batter in a separate bowl. Then, divide the remaining batter between the prepared pans over the chilled cookie crumbs.
Raspberry swirl – Combine the 1/4 cup strained raspberry sauce and 1/2 cup cheesecake batter until you have a lovely pink. Divide the raspberry swirl batter between the cheesecakes. Use a skewer to swirl the top just enough to create a marbled effect.
Bake and top
Place the muffin tray in a baking pan. Pour about a cup of hot water on the outside of the baking pan.
Pro tip – The water will create steam in the oven and prevent the custard-based cheesecake from drying out.
Bake for 25 to 30 minutes until the top is set but still slightly wobbly. Once baked, remove and let cool in the pan for 10 minutes. Place in the fridge to cool completely.
Once cooled, remove each cheesecake from the mold onto a serving platter. Top each cheesecake with a tablespoon of the cooled raspberry filling.
Pro tip – Do not try to unmold the cheesecake before chilling for at least 4 hours. Otherwise, they will fall apart. Chilling will ensure the crust comes out in one piece.
Garnish with fresh or frozen raspberries and mint.
Enjoy!
---
How long will these mini cheesecakes keep?
These baked mini blueberry cheesecakes will last in the fridge for 3 to 5 days. Make sure to wrap it well in cling wrap to prevent it from drying out.
Can I freeze these mini cheesecakes?
Yes, you can freeze these cheesecakes in the freezer for up to three months. Make sure to wrap each well in plastic to prevent it from drying out. To thaw keep it wrapped in the refrigerator overnight. The condensation will remain on the plastic leaving the cheesecake dry.
Do I have to bake these mini cheesecakes in a water bath?
Cheesecake is a custard-like batter with cream cheese in it. So, it must be baked delicately. A water bath insulates the pan and ensures that the batter never gets overheated keeping that custard-like batter moist, soft, and silky.
How do I know if my cheesecake is over-baked?
Overbaked cheesecake often has a crack. The cake will be dry and gritty when cut. The eggs overcook so the cheesecake becomes firm and dense instead of soft and silky custard-like.
---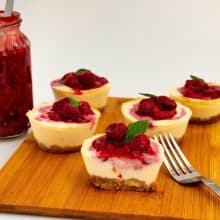 Description
Conversions Used
1 lb = 453 grams, 1 cup = 240 ml, 1 stick = 113g, 1 tbsp= 15 ml, 1 tsp= 5 ml,
Ingredients
Cheesecake filing
1

lb

(

450

g

)

Cream cheese

((16 oz))

½

cup

(

120

ml

) Sour cream

1

Large Egg

1¼

cup

(

50

g

)

Castor sugar

1

tbsp

Lemon juice

2

tbsp

Cornstarch
Raspberry filling for the top
7

oz

(

200

g

)

Raspberries

(fresh or frozen)

¼

cup

(

50

g

) Sugar

1

tbsp

Lemon juice

¼

tsp

Salt

½

cup

Water

2

tbsp

Cornstarch

((cornflour))
Follow Veena Azmanov on Pinterest
Instructions
Recipe Notes & Tips
Always have your ingredients at room temperature. If necessary delay it by a few minutes just so they thaw. Cold ingredients will give a lumpy or curdled cheesecake batter. 
For the crust, you can use graham crackers but you can try any of your favorite brands of cookies such as Oreos, biscoff or digestive. 
Use good quality cream cheese such as Mascarpone or Philadelphia as they are thicker in consistency as compared to low-fat cream cheese which can affect the consistency of your baked batter.
You can thaw cream cheese in the microwave at 50% power for 10 secs at a time but do not melt it as it does alter the taste and texture. 
Place eggs in warm water to thaw – room temperature eggs mix well in the cheese batter and works best for consistency
Never over mix, a cheesecake batter at this will incorporate air and lead to cracking on the top.
Not all cheesecakes need to be baked in a water bath but since cheese is so delicate a water bath helps it bake gently leaving that custard-like creaminess.
When baked let the cheesecake cool in the pan. Once cold they will release easily without breaking or crumbling. Fresh cheesecakes are delicate and can break easily. 
The filling recipes are from scratch and easy to make in less than 5 minutes. But you can certainly use store-bought ready-to-use fruit fillings. 
If you don't want to use a fruit filling you can also top each cheesecake with whipped cream and fresh fruits instead  
Nutrition Information
Serving:

100

–

g
Calories:

246

–

kcal
Carbohydrates:

21.9

–

g
Protein:

4.8

–

g
Fat:

15.87

–

g
Saturated Fat:

9.36

–

g
Polyunsaturated Fat:

6.51

–

g
Monounsaturated Fat:

0

–

g
Trans Fat:

0

–

g
Cholesterol:

61

–

mg
Sodium:

251

–

mg
Potassium:

0

–

mg
Fiber:

1.1

–

g
Sugar:

14

–

g
Vitamin A:

0

–

IU
Vitamin C:

0

–

mg
Calcium:

0

–

mg
Iron:

0

–

mg
The nutrition information and metric conversion are calculated automatically. I cannot guarantee its accuracy. If this data is important to you please verify with your trusted nutrition calculator. Thank you
Add to Collection
Go to Collections